In 1995, a start-up was established that repaired telecommunications equipment. The small start-up soon carved out a reputation for its proactive, customer-focused way of working. As well as repairs, this ambitious business also gave customers advice on how to improve their appliances. That helped avoid preventable damage and created long-term working relationships with customers.
In 2003 the start-up became Dynafix, which has been the B2B (and B2C) market leader for aftersales service in the Benelux for many years now.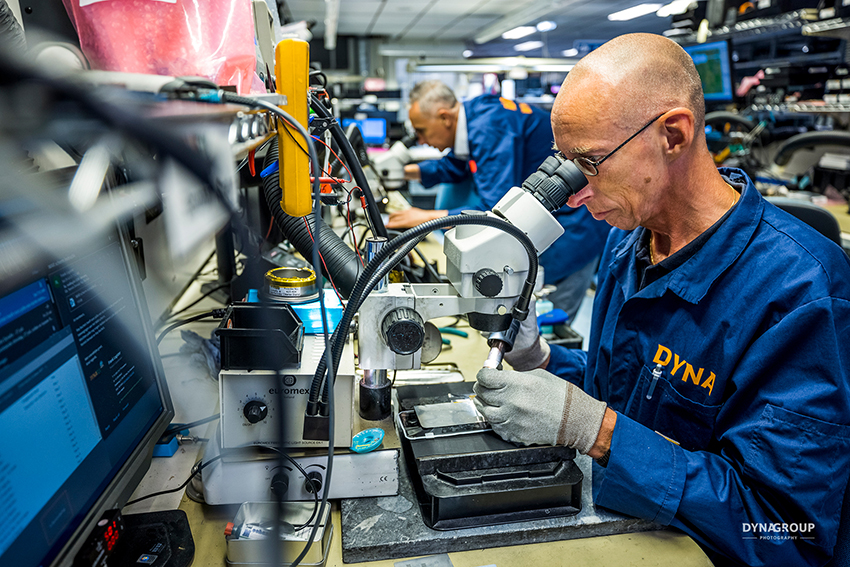 Dynafix: we keep you connected
We manage, assemble, install, maintain, repair, refurbish, replace and recycle complex and mobile electronic appliances to keep organizations connected with their customers or employees. Together with the other business units of DynaGroup we service manufacturers, retailers, telecom operators, insurers, banks, lease companies and other businesses and organizations day in, day out. That partnership makes us the fastest, most reliable and most innovative aftersales service partner for the businesses and their customers.
Dynafix offers comprehensive aftersales service – and not just for telecoms equipment. We are constantly adding to our product and service portfolio. As well as smartphones, we offer organizations a full aftersales service for tablets, laptops, LCD TVs, drones and more, including e-scooters and coffee machines. Your customers, IT department and/or employees can count on our reliable management, repair and replacement solutions every time.
Ultimate customer experience
As a creative and innovative "behind-the-scene partner", we constantly develop new, reliable and successful aftersales service management solutions. What sets us apart: we always look at things from the perspective of your organization, your revenue models and, of course, your customers. Our solutions can be immediately applied, resulting in the ultimate customer experience. As a result, you strengthen your relationship with customers and open the door to further growth.